"We have worked with Dynamic Team Solutions on several different engagements and achieved great results. We value the ease with which Dynamic Team Solutions has been able to help us transform the way our leaders work together. As a result of the partnership, our leadership team has grown more cohesive and is better able to meet everyday business challenges."
B. Blake,

First Vice President, Human Resources Director
"Candice is both artful and skillful at the mediation of conflict and I am happy to highly recommend her services"
L. Gardner,

Experienced Human Resources Generalist
"Candice was the perfect choice for conflict resolution in our family owned business."
M. Webster,

Webster Instrument
"Hilary is a centering force. She brought clarity and focus to our group, helping us cut through the noise and see a clear path to our goals."
Heather Chen Eisner,

COO, Garrett Leight, LLC
"Candice has provided a venue for the resolution of conflict, misunderstandings, or concerns among our families. She has provided this service with respect, dignity, and professionalism."
A. Kusion,

Santa Monica-Malibu Unified School District
"Candice is a very skilled mediator with a high degree of integrity and ethics.."
G. Sanchez,

The California Endowment
"I just wanted to thank you for continuing to speak at the HR star conference. I've been going for about 6 years and almost every year I've attended your session. Each year your content is fresh, engaging, relevant and you inspire me every time."
K. Martin-Dickey,

HR Manager, Full Swing Simulators
"Candice knows how to keep the audience's attention and interest. She perfectly knows her subject, can illustrate it, relate it to the audience. Her suggestions are comprehensive, easy to understand and applicable. She knows how to bring a delicate zest of humor to the topic to make it more appealing."
"Although the mediation process was at times challenging, Candice was able to keep me grounded throughout the entire process. I truly appreciated her ability to understand my point of view and communicate this in a way that others could comprehend. The mediation has been a success for myself and co-workers and our work environment has significantly improved."
D.S.,

National Association of Women Business Owners, Los Angeles
"Candice has done a fantastic job delivering mediating tools to our members at PIHRA, district one. Her practical and thoughtful approach to positively managing the most dynamic element of all – the human, resulted in very positive feedback from our members. It's a pleasure to work with such a genuine, professional who brings a measurable benefit to organizations and individuals!"
N. Ackeret,

Principal/Executive Vice President at Trapani Dickins & Associates
"The value Candice has provided (and continues to provide) is significant. In our specific instance, we have been able to retain a valuable (albeit challenging) employee. Candice is able to quickly drill down to the root of an issue and, as quickly, offer suggested courses of action that are effective."
S. Broderick,

VP Sales & Marketing FRALOCK
"I am profoundly pleased with the results of a mediation conducted by Candice. My two employees have crafted not only a plan to get along better, but to collaboratively work and plan an exciting new venture together. In the future, when issues of workplace conflict arise, I intend to call Candice. She offers an invaluable service that I highly recommend to others."
H. Harris,

Santa Monica-Malibu Unified School District
"I have hired Candice on more than one occasion as both a Mediator and a Coach. She is one of the most intuitive people I've worked with and I have trusted her with some of our most confidential and sensitive business issues. I wouldn't hesitate to use her in the future and consider her a trusted advisor."
P. Costa,

President, Direct Hire Associates, LLC
"The work you did with my team was so worth it. The staff took it to heart and made real changes. Until we met with you I felt I needed to run interference. Now the team works so well together—communication is better, and the results speak for themselves. We are now where we needed to be, which is in a very good place. It's been life-changing for our entire team."
D. Washington,

V.P. of Operations, FilmL.A., Inc.
"Candice can take credit for our improved communication and collaboration at my Company. She was able to discern the issues that prevented us from working effectively and communicated in a way that solicited everyone's willing cooperation. Our management team was very impressed by her approach."
C. McRae,

Director Human Resources, FilmL.A., Inc.
"Mediation is an art not a science and Candice is a true artist. She understands the issues and psychology involved in mediating disputes and does so quite patiently with great results. I highly recommend Candice to anyone, whether it be a formal legal action or merely a dispute between neighbors or business partners."
S. Keven Steinberg, Esq.
"I just wanted to thank you for continuing to speak at the HR star conference. I've been going for about 6 years and almost every year I've attended your session. Each year your content is fresh, engaging, relevant and you inspire me every time."
K. Martin-Dickey,

HR Manager, Full Swing Simulators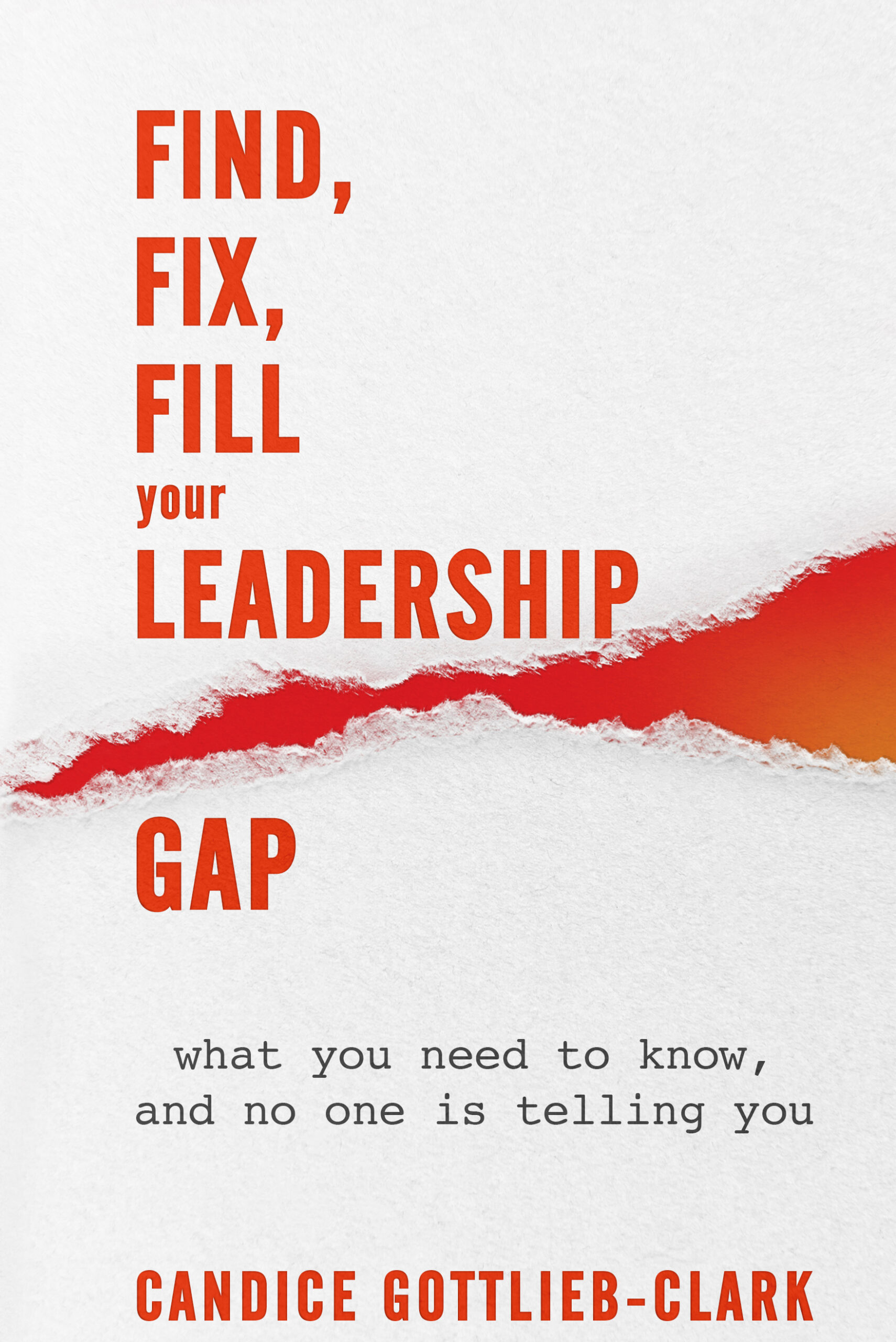 New Book by Candice Gottlieb-Clark
Even the most talented and well-meaning leaders have blind-spots. Gaps in their awareness impact teamwork, create conflict, lead to a loss of talent.